The following is PredictIT's prediction for the 37th match between SRH and PBKS. From start to finish, this blog will cover the entire match between SRH and PBKS. The match will take place on September 25th at 7:30 p.m. IST at Sheikh Zayed Stadium in Abu Dhabi.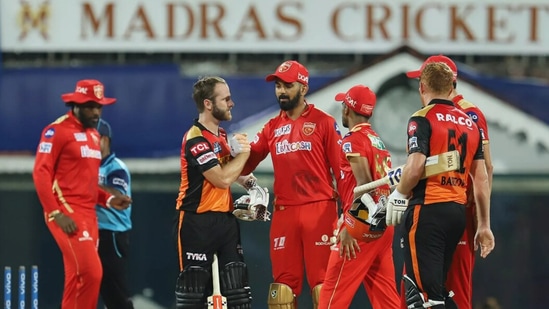 Do you believe you can choose the winner of SRH's 37th IPL match vs PBKS? The only option is to act now or never.
Stop Betting. Start Predicting. Win Prizes.
SRH – Team Review
If Kane Williamson's team's poor showing in India wasn't bad enough, they were also dealt a Covid scare on the eve of their last match against the DC, which they lost by eight wickets. Throughout the season, the team has suffered batting breakdowns and is on the verge of being eliminated from contention for the next round. Given that Williamson's squad is playing for pride, the skipper would want to see a more energized effort.
David Warner's recent form has been a source of concern, and he'll need to get Wriddhiman Saha off to a good start. In this game, the middle-order will be key, with runs expected from Williamson, Manish Pandey, and Kedar Yadav, all of whom have played well in India. Rashid Khan, Jason Holder, and Abdul Samad provide great batting firepower, and if the squad is to win, they must play well in this game.
Their bowling attack was shattered in the last match, and they'll need early wickets from Khaleel Ahmed and Bhuvneshwar Kumar to help them beat PBKS's powerful top order. Rashid Khan and Holder both have plenty of experience, which they'll need in this circumstance. Sandeep Sharma must bowl in the appropriate areas after his poor performance against the DC.
PBKS – Team Review
KL Against the RR, Rahul's team was defeated. After chasing a big total, the team seemed to be on track for a win, but they fell two runs short in the last over. To progress to the next round, they must win this game. Rahul would aim to exploit the SRH camp's lack of confidence in order to improve his team's position on the points table.
Rahul and Mayank Agarwal look to be in terrific shape, and the squad will be relying on them to get the game started. In order to improve the batting, Chris Gayle should replace Aiden Markram in the middle order. With Nicholas Pooran and Deepak Hooda on the team, they have a lot of strength. The team's confidence will be boosted by the presence of great ball hitters like Fabian Allen and Adil Rashid.
Mohammad Shami bowled wonderfully in the last game, but he'll need support from Deepak Hooda and Ishan Porel, both of whom are expensive because of the Sunrisers' powerful stroke players at the top. In the middle innings, Harpreet Brar and Adil Rashid would have to minimize the number of runs scored. Arshdeep Singh had a five-wicket haul in the last game, and he'll have to do it again today.
SRH vs PBKS Match Prediction
Check out our match prediction for the 36th match for DC vs RR here.
Sunrisers Hyderabad and Punjab Kings will meet in the 37th match of the 2021 Indian Premier League on Saturday evening at the Sharjah Cricket Stadium in Sharjah. This match is between the two lowest teams in the standings, with Punjab Kings having three victories and Sunrisers having won only one game so far. At 18:00 local time, the game will begin.
On Wednesday, Sunrisers Hyderabad was soundly defeated by Delhi Capitals, with no player reaching the age of 30. Any of their hitters contributing a high total will put them in a winnable situation.
The greatest way for Punjab Kings to win has been for KL Rahul to score a lot of runs. They have a lot of match-winners who may all contribute significantly.
Prediction Time: SRH to win the game.
Do you bet on Cricket Matches?
The vast majority of bettors expect their favored teams to lose.
PunterPolls is the place to be if you're one of them and share their opinions.
What all you will get at PunterPolls?
Today's Cricket Match Prediction – SRH vs PBKS posted by PunterPolls experts.
It is not necessary for you to vote for the side you think will win today's game. It is entirely free to use.
Many of the most well-known prediction firms may be able to provide match predictions for today's game.
Nothing to lose – Predict & Win Prizes for SRH vs PBKS match
You may have tried your hand at a few Cricket Fantasy Games or online Cricket Betting, and you know how difficult it is to succeed at betting. They're entertaining to play, but they take a long time to complete and only offer a little reward.
PredictIT is a free online cricket prediction game in which you must enter your predictions in under two minutes via polls to win rewards. It's now or never for you to join the club!
If you have any queries, drop us a WhatsApp message at 851 999 1030.
SRH vs PBKS – Today Match Prediction Tips for you
This is your chance to choose the starting lineup for the competition. You may pick the winning team as well as the greatest bowler, hitter, and match MVP.
Predict the winner, bet up to 100 Playing Points on your prediction, and earn an equivalent number of Redeemable Points.
Which player can score the most runs in today's SRH vs PBKS?
Because we're cheering for SRH in this game, we're going with hitters from their lineup.
Our today's match prediction for the Best batsman is Jonny Bairstow.
Predict batsman to score most runs in today's match, back your prediction up to 100 Playing Points, and Win 10X Redeemable Points.
What is your prediction about the Bowler taking most wickets?
Our Best bowler prediction for the game is Bhuvneshwar Kumar.
Back your prediction up to 100 Playing Points and Win 10X Redeemable Points.
Who will win the Man of the Match award in today's game?
We would advise you to pick batsmen for today's MOM award.
Today's match prediction for Man of the Match is Jonny Bairstow.
Predict man of the match and win 20X Redeemable Points.
Are you ready with your Today Match Prediction?
You may earn up to 100 PRP if you correctly predict the winning team. If you correctly predict the Best Batsman and Best Bowler in today's tournament, you will get 1000 PRP. A total of 2000 PRP will be awarded for correctly choosing Man of the Match. In a single game, you may win up to 4100 PRP.
If you haven't joined the game yet, join us now.