PredictIT's pick for the 42nd ICC World Cup match between India and Namibia is as follows: This blog will cover the entire conflict between India and Namibia from beginning to end. The match will be place at Sharjah Cricket Stadium on November 8th at 7:30 p.m.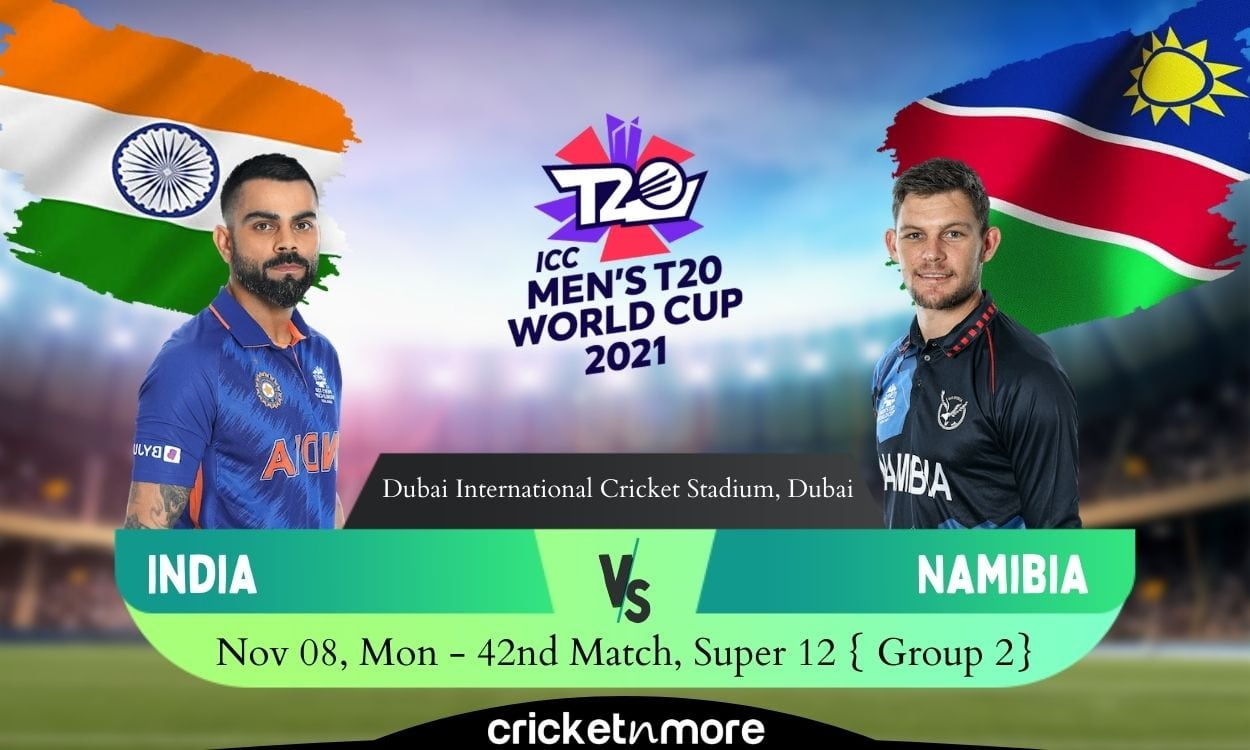 Do you believe you can accurately predict the conclusion of the 42nd match of the ICC T20 World Cup, which pits India and Namibia? The only option is to act now or never.
Stop Betting. Start Predicting. Win Prizes.
IND – Team Review
Virat Kohli's squad has made a strong statement with two massive wins in the last two games. In the penultimate game, the squad delivered on their promise, defeating Scotland by 8 wickets. They bowled brilliantly to restrict Scotland to 85 runs before destroying their bowling attack in pursuit of the score. Kohli will try for a huge win to keep his team's playoff hopes alive.
Rohit Sharma and KL Rahul have looked their best in the last two games, and the same can be expected tonight. The side has a lot of power in the middle order with Kohli, Suryakumar Yadav, and Rishabh Pant. They'd want to see Hardik Pandya, Ravindra Jadeja, and Ravichandran Ashwin grab some quick runs in this game.
Jasprit Bumrah seems in great shape, and he and Varun Chakravarthy will look to strike early in the game. Ashwin was slightly expensive in the last game, and the club would rely on him to pitch tight times. Mohammad Shami and Ravindra Jadeja will be confident after getting three wickets in the last game and will put up a strong performance.
NAM – Team Review
Apart from their win over Scotland, Gerhard Erasmus' squad hasn't had much to brag about in the campaign thus far. The squad had just suffered a devastating loss to New Zealand. They were defeated by 52 runs in their most recent encounter owing to yet another batting collapse. They are looking forward to putting up a better show in their last game of the tournament.
Michael van Lingen and Stephan Baard were handed starts in the last game, and they will have to play well and score fast today. The middle-order would need runs from Gerhard Erasmus, Zane Green, and David Wiese in this game. At the bottom of the list, JJ Smit, Jan Nicol Loftie-Eaton, and Craig Evans should all contribute immediately.
In the last game, Ruben Trumpelmann and Bernard Scholtz bowled well, and the squad would want to see them grab early wickets in this one. Erasmus and Karl Birkenstock bowled tight lines throughout the middle overs, and the same can be expected from them in this match. Wiese and Smith were expensive, and the squad relied on them to win.
IND vs NAM Match Prediction
Check out our last match prediction for the PAK vs SCT match here.
KL Rahul hit 50 off 19 balls in India's big victory over Scotland. We predict the game's leading run-scorer will be the opener. With the ball, Jasprit Bumrah got 2-10 in 3.4 overs on Friday. He is our choice for India's leading wicket-taker against Namibia.
Opening batsman Michael van Lingen scored a run-a-ball 25 and was the highest scorer in Namibia's match against New Zealand on Friday. Against India, he's a fair bet to be their leading run-scorer. Our choice for Namibia's top wicket-taker in this match is David Wiese, an all-rounder who has taken 8 wickets in the tournament thus far. Against Scotland, the Indian batters took no prisoners, attacking from the opening delivery. We expect the same in this match, with KL Rahul earning Player of the Match honors.
Prediction: IND to win the game.
Do you bet on Cricket Matches?
The vast majority of bettors expect their favored teams to lose.
PunterPolls is the place to be if you're one of them and want to express your opinions.
What all you will get at PunterPolls?
Today's Cricket Match Prediction – IND vs NAM posted by PunterPolls experts.
You are not required to vote for the team you believe will win today's game. It's completely free to use.
Many of the most well-known forecasting businesses may be able to predict how today's game will turn out.
Nothing to lose – Predict & Win Prizes for IND vs NAM match
You may have dabbled with Fantasy Sports or online Cricket Betting, and you understand how tough it is to succeed. They're entertaining to play, but they take a long time to complete and pay out a modest sum.
PredictIT is a free online cricket prediction game in which you must enter your predictions in under two minutes via polls to win rewards. It's now or never for you to join the club!
If you have any queries, drop us a WhatsApp message at 851 999 1030.
IND vs NAM – Today Match Prediction Tips for you
PredictIT is a free online cricket prediction game in which you must enter your predictions in under two minutes via polls to win rewards. It's now or never for you to join the club!
Predict the winner, bet up to 100 Playing Points on your prediction, and earn an equivalent number of Redeemable Points.
Which player can score the most runs in today's IND vs NAM?
We're going with hitters from IND's lineup because we're rooting for them in this game.
Our today's match prediction for the Best batsman is KL Rahul.
Predict which batsman will score the most runs in today's match, bet up to 100 Playing Points on your forecast, and win 10X Redeemable Points.
What is your prediction about the Bowler taking most wickets?
Our Best bowler prediction for the game is Jasprit Bumrah.
Back your prediction up to 100 Playing Points and Win 10X Redeemable Points.
Who will win the Man of the Match award in today's game?
We would advise you to pick batsmen for today's MOM award.
Today's match prediction for Man of the Match is KL Rahul.
Predict man of the match and win 20X Redeemable Points.
Are you ready with your Today Match Prediction?
If you accurately guess the winning team, you can earn up to 100 PRP. You will receive 1000 PRP if you properly guess the Best Batsman and Best Bowler in today's competition. For successfully recognizing Man of the Match, a total of 2000 PRP will be rewarded. You may win up to 4100 PRP in a single game.
If you haven't joined the game yet, join us now.