PredictIT's pick for the 33rd ICC World Cup match between India and Afghanistan is as follows: This blog will cover the entire struggle between India and Afghanistan from beginning to end. The match will take played in Sheikh Zayed Stadium, Abu Dhabi on November 3rd at 7:30 p.m.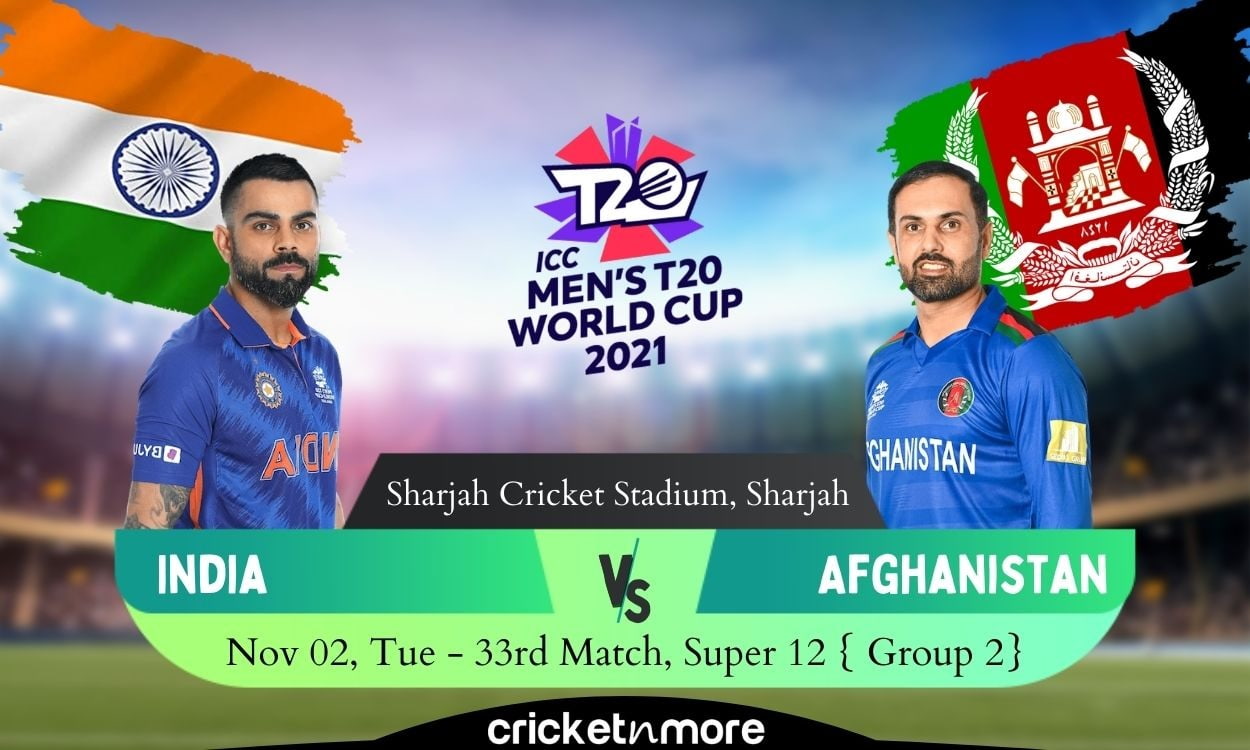 Do you believe you can accurately predict the conclusion of the 33rd match of the ICC T20 World Cup, which pits India and Afghanistan? The only option is to act now or never.
Stop Betting. Start Predicting. Win Prizes.
IND – Team Review
The play of Virat Kohli's squad has been the most talked-about element of the tournament. Not only did they lose both games, but they also failed to compete in both. The squad struggled with the bat in their most recent match, losing by eight wickets to New Zealand. Not only do they need to win by a wide margin to gain their first points, but they also need to improve their run rate.
The new starting combination of Ishan Kishan and KL Rahul showed determination in the previous game, and the squad is anticipating a big performance from them this time. Kohli, Rohit Sharma, and Rishabh Pant are all crucial players, but they must excel in the middle overs. The team would like to see runs from Ravichandran Ashwin, Ravindra Jadeja, and Shardul Thakur in the bottom of the order, which hasn't happened in two games.
India's bowling attack hasn't looked especially dangerous so far, and Jasprit Bumrah and Varun Chakravarthy will be key early on. This game will almost certainly feature Ashwin, who will want to bowl well alongside Ravindra Jadeja. Thakur and Mohammad Shami have fought before, and the squad will lean on them this time.
AFG- Team Review
Mohammad Nabi's squad just defeated Namibia with a stunning win. They batted and bowled superbly to win by 62 runs in their last game. They'll have a chance to participate in the semifinals if they win one more game. Nabi will look for opportunities to capitalize on India's lack of form and confidence in this encounter.
The openers, Hazratullah Zazai and Mohammad Shahzad have had a good season so far and will be looking to get the team off to a good start today. The absence of Asghar Afghan is a significant loss, although the middle order with Hashmatullah Shahidi, Rahmanullah Gurbaz, and Najibullah Zadran might aid the squad. Nabi, Gulbadin Naib, and Rashid Khan are all good players who should contribute runs at the bottom of the order.
Nabi and Naveen-ul Haq must grab early wickets and expose India's weaknesses in the top order. Hamid Hassan and Rashid Khan have both bowled well in the past, and the squad will lean on them for the duration of this match. Both Karim Janat and Naib are experienced bowlers who will be crucial in this game.
IND vs AFG Betting Tips
Check out our last match prediction for the NZ vs SCT match here.
Virat Kohli has the most runs for India so far in the tournament, and we expect him to continue that trend in this match. Jasprit Bumrah, who was excellent against New Zealand, has taken India's only two wickets in the competition. We believe Bumrah will be India's greatest wicket-taker in the match against Afghanistan.
On Sunday, Afghanistan's opener, Mohammad Shahzad, topped the team with 45 points from 33 balls against Namibia. He is probably worth backing as their main run-scorer against India. Rashid Khan has continued to impress with the bat, compiling 7-49 in his last three appearances. The leg-spinner is a genuine candidate for Afghanistan's top wicket-taker in this tournament. Afghanistan's batsmen like attacking cricket, but doing so against a bowler of Jasprit Bumrah's level will be difficult. India's fast bowler is our choice for Player of the Match.
Prediction Time: IND to win the game.
Do you bet on Cricket Matches?
The vast majority of bettors expect their favored teams to lose.
PunterPolls is the place to be if you're one of them and want to express your opinions.
What all you will get at PunterPolls?
Today's Cricket Match Prediction – IND vs AFG posted by PunterPolls experts.
It is not necessary for you to vote for the side you think will win today's game. It is entirely free to use.
Many of the most well-known forecasting firms may be able to anticipate the outcome of today's game.
Nothing to lose – Predict & Win Prizes for IND vs AFG match
You may have dabbled with Fantasy Sports or online Cricket Betting, and you're well aware of how tough it is to succeed. They're entertaining to play, but they take a long time to complete and pay out a modest sum.
PredictIT is a free online cricket prediction game in which you must enter your predictions in under two minutes via polls to win rewards. It's now or never for you to join the club!
If you have any queries, drop us a WhatsApp message at 851 999 1030.
IND vs AFG – Today Match Prediction Tips for you
PredictIT is a free online cricket prediction game in which you must enter your predictions in under two minutes via polls to win rewards. It's now or never for you to join the club!
Predict the winner, bet up to 100 Playing Points on your prediction, and earn an equivalent number of Redeemable Points.
Which player can score the most runs in today's IND vs AFG?
Because we're pulling for IND in this game, we're going with batters from their lineup.
Our today's match prediction for the Best batsman is Virat Kohli.
Predict which batsman will score the most runs in today's match, bet up to 100 Playing Points on your forecast, and win 10X Redeemable Points.
What is your prediction about the Bowler taking most wickets?
Our Best bowler prediction for the game is Jasprit Bumrah.
Back your prediction up to 100 Playing Points and Win 10X Redeemable Points.
Who will win the Man of the Match award in today's game?
We would advise you to pick batsmen for today's MOM award.
Today's match prediction for Man of the Match is Virat Kohli.
Predict man of the match and win 20X Redeemable Points.
Are you ready with your Today Match Prediction?
You may earn up to 100 PRP if you correctly predict the winning team. If you correctly predict the Best Batsman and Best Bowler in today's tournament, you will get 1000 PRP. A total of 2000 PRP will be awarded for correctly identifying Man of the Match. In a single game, you may win up to 4100 PRP.
If you haven't joined the game yet, join us now.